We're a group of Christians who are excited to share fun, friendship and good news with young people in Hemel Hempstead and Kings Langley.
By hosting town-wide events, our aim is to bring youth leaders and young people together so that we may encourage each other to follow Jesus with passion, have outrageous fun and find friends, while nurturing worship, unity and prayer.
Our expanding vision is now also to serve schools through lessons, clubs, assemblies and creative prayer spaces. We aspire to invite young people to consider the dynamic truth of the gospels and to witness how faith in Jesus provides hope, love and a live-changing, impact across the globe.
Have a peek at our video and look around the site to see what we've been up to and check out what's coming up. We hope to meet you soon!
With warm wishes from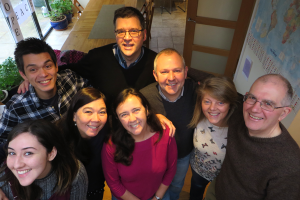 Paul – Adeyfield Free Church,  Danie and Katie –  Expressions Academy, Lisa – Hemel Hempstead Community Church, Nikki – Hemel Hempstead Methodist Church, Nicole – Hemel Vineyard Church, Steve New Hope Christian Fellowship,  Dean and Ruth – Missionaries,  Anna and Damon – South Hill Church.
YAHemel is a registered charity (no. 1179672).