LET'S GO KAYAKING on the Grand Union Canal – Jun 2022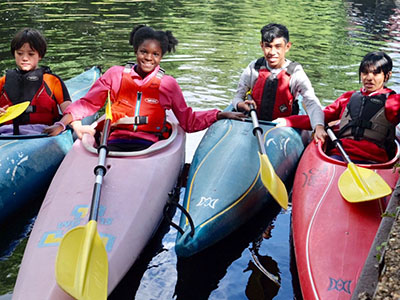 A lot of laughs getting to grips with kayaking on the Grand Union, scenic views, lots of splashing, bumping into banks but by the end we were racing along the canal.
ECO-MIX at Adeyfield Free Church – Apr 2022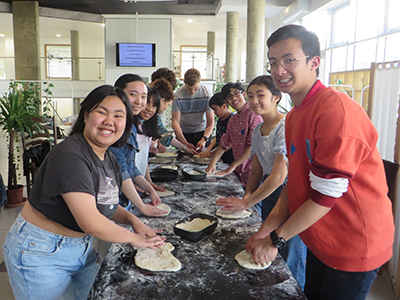 Bungee run, inflatable archery, pizza making, upcycled games and crafts and an "Old to New" creative prayer space were the highlights of the eco-themed Mix held at Adeyfield Free Church. This was followed by worship and a message by Paul Nicell who shared about our great value to God and why we are all worth recycling even when we mess things up.
BONFIRE PARTY – Nov 2021
A warm evening filled with lots of cheer, sparklers, toasted marshmallows, chocolate milk, glow sticks, games, and worship – all set in a the wonderful tealight lantern-filled, pine forest at Spring Meadow Farm.
---
THE MIX at Liberty Tea Rooms – Sep 2021
A Text Treasure Hunt around Marlowes, based on the parable of the lost pearl, brought together some 30 young people and our fab volunteers after a long break. The event ended with free pizza and ice cream floats for all.
---
BIKE HIKE – Jun 2021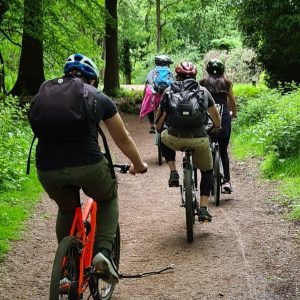 Keen cyclists came together again to pedal 15km through Ashridge's leafy and muddy trails for a fun afternoon.
---
DEATH ON THE NILE – Mar 2021

Our Zoom whodunnit, a Murder Mystery evening featuring a stella cast of professional actors and youth leaders, offered a night of sleuthing and free Skittles to some 40 young people. Set in ancient Egypt, Death on the Nile, was a hilarious opportunity to enjoy a bit of armchair theatre during lockdown, and left the our happy audience wanting more.
---
BALLOON SNOWMAN WORKSOP – Dec 2020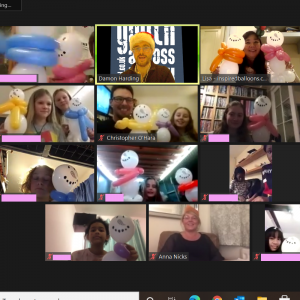 Kits packed with balloon pumps, balloons and chocolate snowmen made their way into the homes of young people for our zoom Snowman Balloon Workshop. A fun evening with YAHemel team as we celebrated Christmas together with fun, creativity and gratitude.
---
CHRISTMAS PIZZA CHALLENGE – Dec 2020
More than 100 free pizza kits were delivered to local youth groups for our Christmas lockdown challenge – to create a festive pizza celebrating the reason for the season. A host of imaginative entries ranged from 3D stables and characters to inspiring flat based shapes decorated with delicious toppings. Check out the amazing work of our nine finalists, who each received an abundance of chocolate and edible prizes in various forms.
---
OPERATION CHRISTMAS CHILD – Dec 2020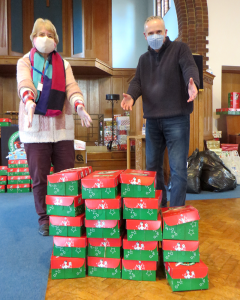 A heartwarming 18 shoeboxes filled with gifts and goodies, by local young people, were delivered to Christ Church Baptist, Kings Langley for distribution to spread joy and love to kids around the world. Thanks to all the youth groups who helped to make this happen.

---
DENS SLEEPOUT – Nov 2020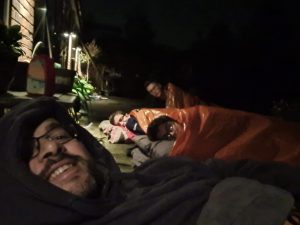 A few of our fabulous team and young people took part in the annual sleepout to raise some £815 for homeless charity DENS. Due to Covid restrictions, only people from the same household could sleep together. Pictured above is our Chairman and family. Thanks to everyone who swopped their beds for the kitchen floor or an outdoor spot to raise awareness and funds for those experiencing homelessness at this time.
---
PHOTO SCAVENGER HUNT – Oct 2020
Although the deadline for receiving prizes has past, feel free to print off our Photo Scavenger Hunt as a resource for your youth group or to enjoy with mates.
---
GET CREATIVE – Jul 2020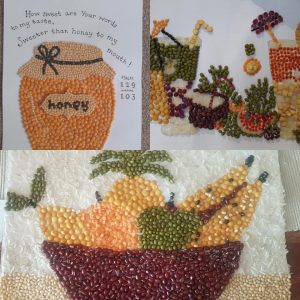 Despite the lockdown, we held a socially distant art competition for young people to take part in their homes or small youth groups. The challenge was to use beans and pulses to create a picture based on the theme "Taste and see that the Lord is good". Some 60 goody bags containing all the necessary materials were delivered to youth leaders across Dacorum with amazing results. The three winners – their artworks shown above – all received a bumper art pack and chocolate orange.
---
THE MIX 13 at Adeyfield Free Church – Mar 2020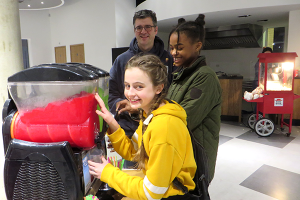 A chilled Movie Night, with free slushies and popcorn, featuring the film Breakthrough . A teen choice award nominee, this was based a true story showing that miracles really do happen.
---
DENS SLEEPOUT – Nov 2019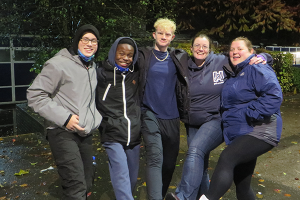 The Youth Across Hemel team raised a whopping £370 between them when they swapped their cosy beds for sleeping bags in the DENS sponsored sleepout at Hemel Hempstead School. This is the fourth time YAHemel have join the DENS sleepers, which doubled in number to 200 this year, raising some £35,000 to help vunerable people in our town.
---
BONFIRE PARTY – Nov 2019
A trail of tea light lanterns through the pine forest at Spring Meadow Farm in Berkhamsted lit the way to Youth Across Hemel's annual bonfire party. On the menu were toasted marshmallows and chocolate milk around the cheery, crackling bonfire where glow sticks, sparklers, games, acoustic worship and singing were enjoyed by the 40 strong crowd.
---
THE MIX 12 at Church of the Resurrection – Oct 2019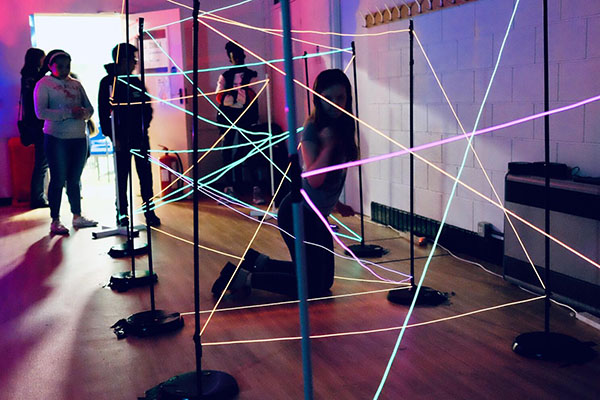 Themed Mission Impossible, the evening kicked off with a Master of Disguise photo booth and a luminescent wire obstacle course testing young people's agility to pass through a corridor of tangled "laser beams" without touching them. A strike-a-light reaction game, buzz wire, morse code signal, and under pressure inflatable challenge also tested dexterity, focus and co-ordination. A Mission Impossible creative prayer space, was also set up in collaboration with Expressions Academy. Young musicians from South Hill Church led a time of worship before chairman Damon Harding from YAH shared an encouraging message on Jesus's words that "nothing is impossible with God."
---
GET CREATIVE – Jul 2019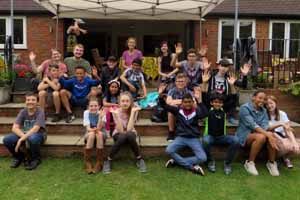 An exceedingly creative yet chilled afternoon with this lovely bunch making an astounding six lego animations, 24 cupcakes, 15 chocolate fudge cookies, painting six pots and making nine clay creations… in two hours.
---
BIKE HIKE – May 2019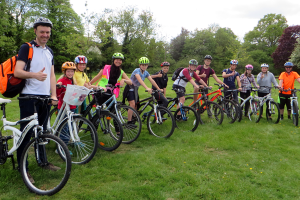 An afternoon of bumpy rides over tree roots, dirt tracks, mud and grass through scenic Ashridge forest and the surrounding area.
---
THE MIX 11 at St George's URC – Mar 2019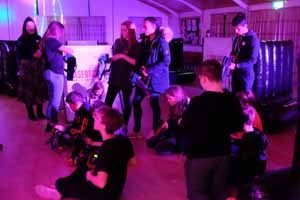 Headlined by laser tag, human Chinese checkers and a Pilgrim's Progress prayer space, Mazerunner was the theme for this Mix. While one team played laser tag threading a room with frenetic neon, light patterns, another group played man-sized Chinese checkers on a 30 foot grid, mapped out on the floor. A third group explored a creative prayer space based on John Bunyan's classic novel Pilgrim's Progress . Young musicians from South Hill Church led a time of worship before Katie Beeson from YAH shared an encouraging message on Jesus is the gate .
---
DENS SPONSORED SLEEP OUT – Dec 2018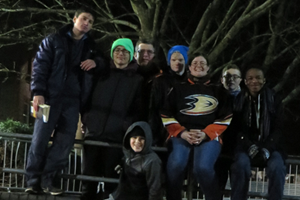 An eight strong team from YAHemel slept out in the wet and windy grounds of Hemel Hempstead School to raise awareness and money for local homeless charity DENS. So far the team have raised a whopping £600. This time DENS staged a silent disco in the school hall to help warm and entertain the hundred or so sponsored sleepers.
---
BLAZING BONFIRE PARTY – Nov 2018
Golden sparklers, toasted marshmallows, chocolate milk and acoustic worship led by the youth at South Hill Church united some 40 young people and church youth leaders for our bonfire party at Phasel's Wood. Party-goers followed a glow stick and fairy light trail to gather under the stars by a roaring bonfire, fuelled by old palettes and decking.
---
THE MIX 10 at Belmont Road Baptist Church – Oct 2018

Some 40 young people from seven local churches joined us for our themed evening "Tumbling Walls", a fun opportunity to build bourbon biscuit domino runs and sugar cube towers. A prayer warriors room and escape room were also featured while guest speaker Jason Reynolds from Luton Christian Fellowship shared about how God wants to bring down negative strongholds in our lives such as depression, anxiety, fear and resentment and replace them with hope, confidence, courage, love and forgiveness. Loads of bourbon biscuits were left over to consume with hot chocolate.
---
BIKE HIKE – Jun 2018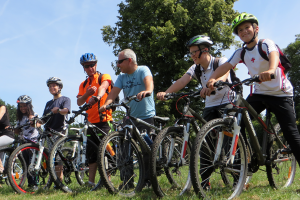 An exhilarating afternoon cycling 15 km through leafy Ashridge in brilliant sunshine, culminating in "wheely" high air time moves at the dips.
---
THE MIX 9 at Christ Church Baptist – Mar 2018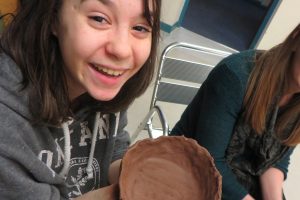 "Make or Break" was the theme which drew young people from seven local churches for cosmic and creation themed challenges involving marshmallows, toothpicks and playdough followed by workshops in making and breaking clay pots. The upper hall was transformed into a creation themed prayer space filled with twinkly lights, a fountain, plants and seven interactive prayer stations. The fun, fast evening finished with sunrise mocktails and a galaxy bar.
---
SPONSORED SLEEP OUT FOR DENS – Dec 2017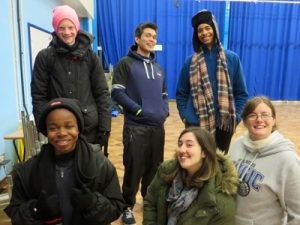 The YAHemel six strong team of leaders and young people joined more than 70 sleepers for a wintery night under the stars in the grounds of Hemel Hempstead School. This annual event helps to raise both awareness of homelessness and important funds for local homeless charity DENS.
---
OPEN MIC NIGHT at the Salvation Army Coffee Lounge – Nov 2017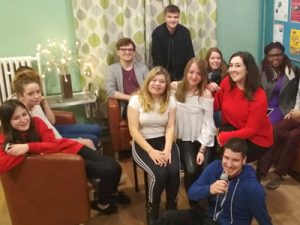 A talented bunch of singers and players entertained friends in this chilled, hang-out zone for 14 year olds and upwards. Hot chocolate, cupcakes, biscuits were all free along with the great sounds and fab company.
---
THE MIX 8 at Hemel Hempstead Methodist Church – Oct 2017
Based on the theme "Bounce Back" and being resilient in God, some 35 young people gathered for crazy ping pong team games which tested their dexterity in five separate challenges. Some took part in an upbeat street dance to the Newsboy's Restart, others performed a drama on the stickiness of sin, or chilled in a creative prayer workshop. A bubbly finish was had by all as they enjoyed mango and lemon bubble teas served with strawberry juice pobbles.
---
GET CREATIVE – Jul 2017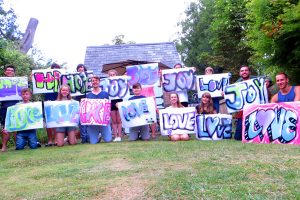 Armed with spray paints, tile paints and modelling balloons, young people exposed their arty talents at Get Creative. Professional graffiti artist, Jordan Lauder of Swag Art, demo'ed how to make graffiti style words, balloon artist Lisa Dussek of inspiredballoons.co.uk hosted a fish balloon modelling workshop, while Nicole Beeson led a free style tile painting workshop.
---
BIKE HIKE – May 2017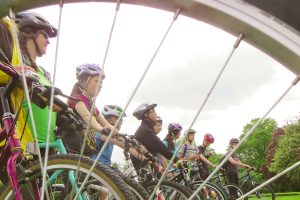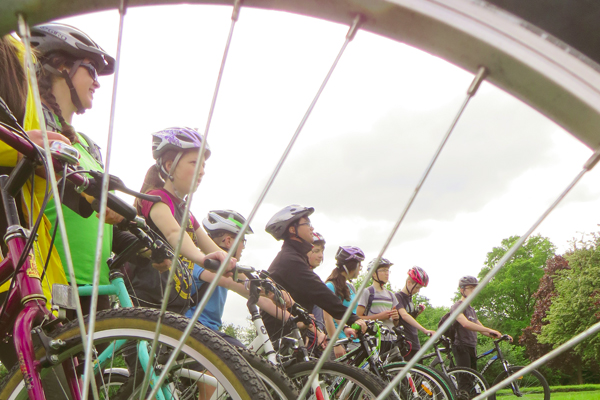 A muddy 11 km cross country bike hike through Ashridge footpaths and byways in warm sunshine took us on a fun and challenging journey, pitted with tree roots, potholes and muddy terraine. The route was successfully completed by all who took part in just under two and a half hours.
---
THE MIX 7 at The Salvation Army – Jan 2017
A frenetic text treasure hunt around Hemel town centre, with clues stretching from Pizza Express to The Royal Bank of Scotland, challenged the wits and athleticism of some 50 young people and youth leaders as they raced to find the answers at our seventh Mix.
Based on the theme "Hope is the anchor", this was a chance to mix with old and new friends, enjoy a portion of fish fingers and chips as well as take part in workshops in music, drama and ceramic painting. During these creative sessions, musicians and singers learnt and performed a new song, "Anchor" by Hillsong; experimented with a powerful drama developed by missionaries to Bolivia Dean and Ruth Such; and painted anchor designs and scripture onto mugs and tiles.
---
THE MIX 6 at South Hill Church – Nov 2016
Kicking off with belly-skateboarding human hungry hippos gathering balls with laundry baskets for their team, the Mix returned for its sixth installment based on the theme "Taste and see that the Lord is good!" Compered by Sunrise Church Youth Leader Josh Mitchell and Creative Director of Expressions Academy Daniella Hobbs, one highlight included a Team Challenges workshop where contestants had to squirm head first across the floor in a sleeping bag relay. Blinded by the sleeping bag in front of them, it was difficult to gauge in which direction to head except from the shouts and cheers of team members.
A Circus Skills workshop gave youth the opportunity to ride a unicycle, toss spinning plates to one another, hoola hoop, juggle and have a go at stilt walking. A Jelly Bean Prayer Bracelet workshop provided a fun, calm spot for contemplative threading, while the Fruit Carving workshop equipped young people with the skills to carve banana dolphins, fruit flowers, a melon boat and beautifully arranged fruit platters which everyone enjoyed with a chocolate fountain.
---
LARK IN THE PARK – Jul 2016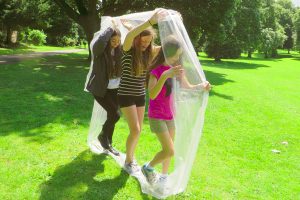 Bubble wrap run mats were created and raced by young people and youth leaders at Gadebridge Park. Amongst other games and picnicing, this was a time to chill with friends and have a laugh.
---
THE MIX 5 at St George's URC – May 2016
A giant inflatable cactus hoopla and friendly youth workers from across local churches welcomed some 30 young people to St George's URC to celebrate The Mix. Based on the theme "The Lord is my strength, my song and my salvation," the evening kicked off with several games including a bouncy hopper relay, followed by a cover of 21 Pilot's The Judge, by members of the youth band Room 38.
A music workshop led by Gus Nunes and Josh Mitchell from Sunrise Church drew a lot of talent and interest, bringing together 12 young musicians who had never rehearsed together before to perform worship song Set a fire. Daniella Hobbs, creative director from Expressions Academy choreographed dancers to perform a skilful and upbeat number in the dance workshop. Adeyfield Free Church youth pastor Ruth Cordell organised a freestyle arts and crafts workshop which was popular with older youth while Lisa Dussek, also a balloon artist from inspiredballoons.co.uk, offered a balloon modelling workshop creating balloon dumbbells and flowers.
---
THE RUNAWAY – Feb 2016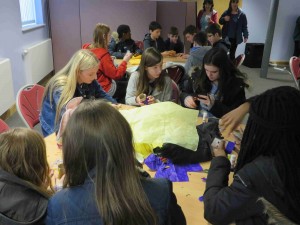 The Runaway, a two day creative worship event, based on Jesus's story of the prodigal son brought together some 35 young people from across local churches at South Hill Church for fun, workshops and games . Organised by Youth Across Hemel in conjunction with local media company 3 Strands Media and creative arts ministry Expressions1 Vision, the teams helped teens explore the Christian faith through media training, dance and drama workshops, poetry writing, painting, cooking, team building games and music.
Daniella Hobbs, Creative Director of Expressions Academy, said: "We love giving young people the opportunity to recreate stories in their own way. It provides understanding and ownership of God's word transforming their own relationship with God. The creativity they produced was truly inspiring."
---
SUPERHERO PARTY! – Jan 2016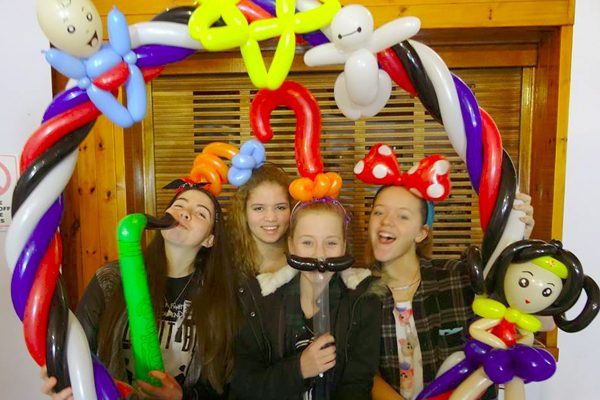 Our Superhero Party at Our Lady Catholic Church was a welcome blast for the new year bringing youth groups together for fun, friendship and sharing faith in the one, true, super hero Jesus Christ. Dress in various capes and guises, youth happily took to bishing and bashing each other with pillows and padded jousting sticks on the inflatable Baymax Pillow Wars. A Daily Bugle photo booth invited party goers to have snap shots taken of them dressed in balloon accessories in a superhero themed photo frame, and a video blog gave them opportunity to share their faith story to camera. Fantastic Four in Row, Superman Jenga, a Justice League Prayer Powerhouse, Thor wellying throwing and Judge Dredd nerf gun training were also on offer.
---
BONFIRE PARTY! – Nov 2015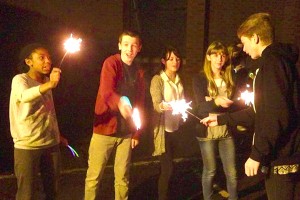 Due to massive downpours, YAH relocated the scheduled Bonfire Party at Phasel's Wood to Our Lady Catholic Church Hall with a sparkler and glow stick filled Games Night which culminated with a music video from the Sidewalk Prophets and a message of God's love for us .
---
THE MIX 4 at Hemel Hempstead Methodist Church – Nov 2015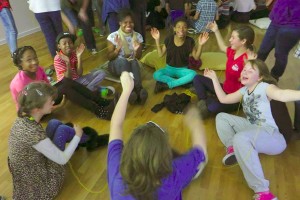 Sucking strawberry laces, threading string through sleeves, and stuffing balloons in giant, lacy knickers were some of the larks young people got up to at The Mix. Based on the theme Our Story, the aim was to relax with old friends, meet new ones and introduce young people to how God connects with us. This is the fourth time Youth Across Hemel has organised The Mix, encouraging youth and leaders to visit different churches across the town, have fun and inspire one another.
---
THE MIX 3 at Adeyfield Free Church – Jun 2015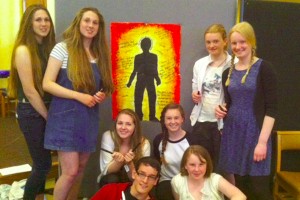 An evening bursting with teen talent, messy games, and biblical encouragement that drew in 65 young people and youth leaders. Focusing on the theme of Self Worth, Adeyfield Free Church and reFRESH performed thought provoking dramas, St George's youth painted an inspiring artwork (above), South Hill Church played an award winning piano duet and a Year 7 guitar and drum set, while Sunrise Church youth invited the audience to join in with a couple of band numbers.
---
THE MIX 2 at South Hill Church – Apr 2015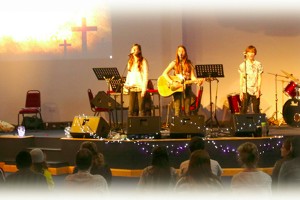 YAH's second instalment of The Mix, the theme was Jesus, Light of the World. Some 55 young people from local churches enjoyed a fast-paced, magazine-style event interspersed with a mix of interactive activities, games, multimedia and live music. Lisa Dussek, YAH co-ordinator said: "Three different bands performed with young people from as young as 11 showing tremendous talent. It was so encouraging and inspiring to see their imagination, skill, and commitment to practise and perform live songs such as Go glow, Umbrella, from and In the Light .
---
THE MIX 1 at St George's URC – Feb 2015
Some 80 young people from local churches poured into St George's URC on Sunday 1st February to celebrate The Mix, a new initiative from Youth Across Hemel inviting young people to mingle with peers, have fun together and grow in God. The event kicked off with a mix of interactive activities, games, and drama followed by dance, video and creative worship. The theme Our Shape looked at our skills, heart, ability, personality and experience to value how God has made us all different.
---
SPONSORED SLEEPOUT FOR DENS – Dec 2014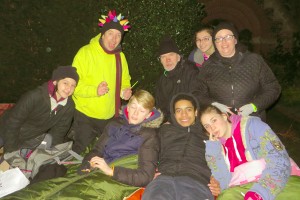 YAH showed their support for homelessness charity DENS by taking part in the 21st annual sleep-out at St Albans Abbey, raising more than £2,500. With the night time temperature dropping to a biting 2 degrees celsius, Catholic youth leader Monty McShane said: "We woke in the morning with frost on some of our belongings. One night was hard enough and made us understand how hard sleeping on the streets is and how important the work DENS does is."